Nature Valley Great British Tennis Weekend/Open Day | Subscriptions | New Opportunities | Finals' Day and AGM
News for Members by Jane Bowden

Nature Valley Great British Tennis Weekend/Open Day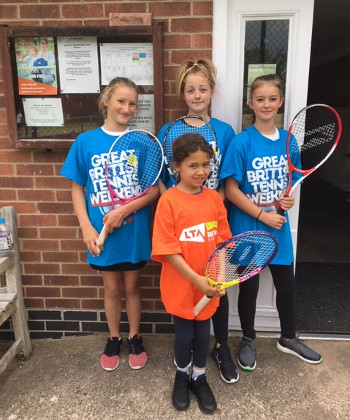 A massive thanks to all those who turned up to play/help with our open day. It was especially good to see loads of juniors wearing their Volunteer
t-shirts/dresses and helping out!
We had loads of people and it looks as if we could get quite a few new members from it. Whatever the outcome in membership terms, it was a lovely event with a great atmosphere and demonstrated perfectly why Saul is such an asset to the club. The next Open day is on Sunday 21st July which is also the day of the Attenborough Scarecrow Festival. Last year it was an amazing day as there were so many visitors to the village. We have agreed to take part in the scarecrow trail but…we need a scarecrow. Is there anyone who fancies having a go (perhaps with a group of juniors?) at making a scarecrow on a famous tennis player theme? The application form needs to in early July so we really need someone to volunteer before we send it in. Unfortunately, I will be away for this event so we will need plenty of volunteers to help, and someone to take a lead on organising. Mostly it's easy to sort out and I can help guide someone before I go away.
Subscriptions
A reminder too that subscriptions are now due – actually, they are overdue as they were due on 1st April. It would really help if these could be paid ASAP (remember you can do it by BACS) to save Bob having to email people individually. If there is an issue with paying the full amount in one go, please get in touch with Bob. Theoretically, the price increases by £10 from the end of June…
New Opportunities
Look out for information about new opportunities for playing, with Cardio tennis shortly starting on a Tuesday evening from 7pm till 8pm. It's a brilliant way to improve fitness and strokes, and the beauty is that it really doesn't matter if you are an expert or are a beginner – you play at your own level. This will be open to non-members so if you have any friends who might like to participate, please bring them along. In the past we have also had children participating so parents and children can take part. More information to follow. Saul will also be starting another 6 week Tennis For Kids course on Tuesday 4th June. This is brilliant value as participants (aged 4 to 7) get a racquet and ball set and a personalised T-shirt as well as 6 hours of expert coaching for just £25 plus £4.99 post and packing.
Finals' Day and AGM
Please keep Sunday 30th June free for the finals of the club tournament and the AGM. Come and support your committee and find out about new developments and plans.
Jane