News for Members by Jane Bowden
Dates for your diary | Courts and Clubhouse | Social and Fundraising Events | Competitions/Match Play | Social Play | Coaching and Juniors | Membership | Other News | Next Committee meeting

Dates for your diary
Wednesday 6th April: 6pm Men's match practice starts at the club
Thursday 7th April: 6pm Match practice/social tennis at the club starts (see below)
Saturday 9th April: 1.30pm First Aegon league match at the club, so restricted court availability for social
Sunday 10th April: 1.30pm Adult and Junior social tennis
9th May, 7.30pm: Next Committee meeting
Saturday 14th May (2-4pm) GBTW
Sundays 15th, 22nd and 29th May, 2pm onwards – 3 courts used for Junior mini league competition (see below)
Courts and Clubhouse
The carpet courts have been professionally cleaned and it looked like half of Skeggy beach came off them! All courts have also been treated for moss and the 4th court will also be cleaned fairly soon. The carpet courts feel very strange and springy and the ball seems to bounce much lower but they are still very wet from the pressure washing and will settle down as they dry out. We are currently in discussion with the cleaning company about whether they need more sand adding (the other half of Skeggy beach?).
We are currently setting up a small sub committee to look at ways to improve the club house. There are ideas for replacing the kitchen and some windows. Anyone else who has contacts/ideas that might help with this please contact Doug or myself. The immediate need is a new shed and we are getting quotes for this.
Social and Fundraising Events
It was suggested at the last committee meeting that we should have another start of season dinner. I suggest that we return to Finton's Bakehouse in Breaston as the food was good, staff were helpful and you can BYO alcohol. In addition we get the whole place to ourselves. In the past a Friday night has proved to be the most popular so I shall be looking for a date in April or May when I contact Finton's. Before I do that though, could you let me know if you/your partner would be interested in such an event.
At the LTA awards night last month our very own Mike Abrahamson received a special long service award in recognition for all his work on tennis in the county, in particular setting up and running the new short format leagues. Below are some photos from the evening.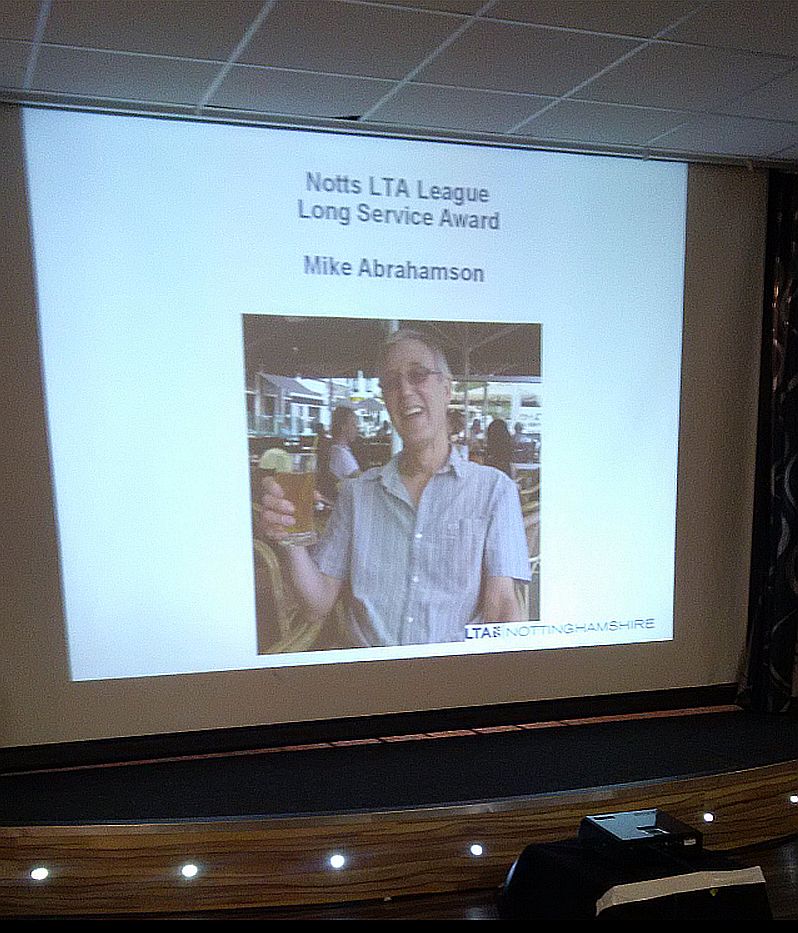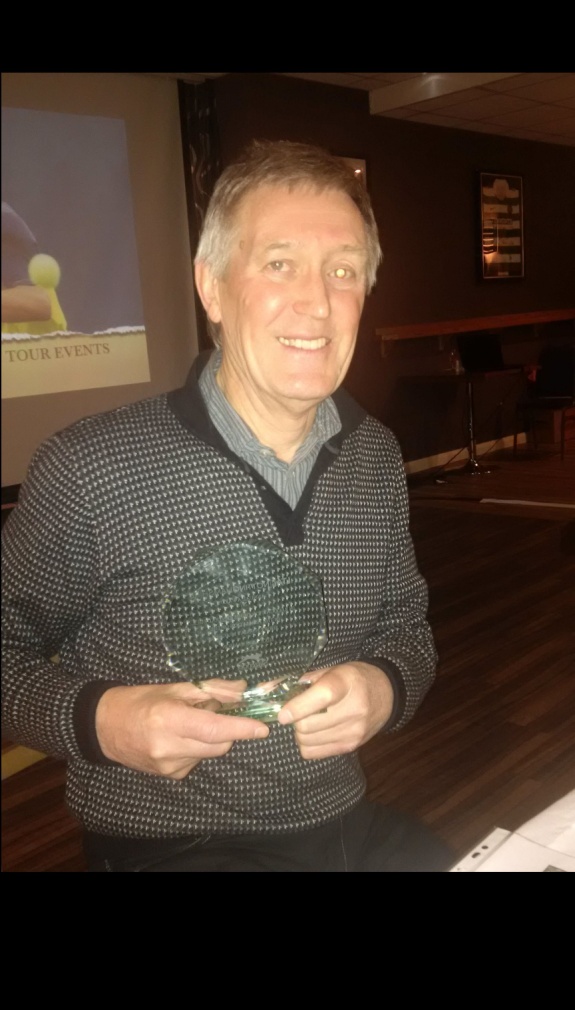 Competitions/Match Play
Singles League: The sign up sheet is in the club house now!
Junior Mini Leagues: These are being organised by Joss and OTB to give Juniors match experience and will run on Sundays 15th May (2 till5), 22nd May (2 till 6) and 29th May (2 till 5). Court 4 will still be available for social play.
The first Aegon League match will be next Saturday. The format is 2 singles and a doubles. Saul Abbiss is captain.
We have a fourth men's team this summer with Mark Green as the captain.
With all teams, if you are keen to play and haven't been asked then please have a word with the relevant captain; it isn't always easy for captains to know everyone in the club.
The sign up sheet for the Club Tournament is now up in the club house. I get the impression Saul and Doug are going to be 'persuading' a lot more people to participate.
Social Play
The main summer social play sessions (just turn up and mix in) are:
Thursday evening 6pm onwards – ladies doubles takes priority, but all men are welcome, including Juniors who have played for teams or been invited due to their standard of play.
Saturday 1.30 onwards: Mixed doubles takes priority. The committee has recently agreed that Juniors who play for teams or who have been invited, due to their standard of play, should be able to join in on these sessions.
Sunday 1.30/2.00 onwards: Family social play doubles. Everyone welcome. If parents bring children/juniors who do not wish to join in, then court 4 can be used for them to play. This started today and was really well attended. It was great to have families of players joining in with the tennis, or just enjoying various sporting activities on court 4. We even had squash, tea and biscuits! (Bob wants this every week…)
Monday evening No-one has indicated that they are interested in Monday evening social tennis, so if you'd like to play then it will be necessary to organise yourselves, i.e. it won't be 'turn up and mix in'. On Mondays when there are committee meetings this will be different as we like to play before meeting, but we will all disappear from the courts at 7.30!
Feel free to use the courts at all other times but, wherever possible, avoid Court 1 as this is far more worn than the others.
The single's league will generally have priority over 2 courts on a Monday evening, Friday evening and Saturday and Sunday evenings after about 5.
Please note that Wednesday is Men's Match Practice night. Selected Juniors will be encouraged to join in with this session.
Balls for social play: The quality of balls available for social play has sometimes been a problem, especially with all the wet weather, and we are currently looking at a system to ensure that there is a constant supply of reasonable quality balls.
Winter Play: We have now finished on a Wednesday evening at the Tennis Centre. Apart from a few issues with the drainage and cleanliness of the courts and with the balls, it has been very popular so we will look to do something similar next year.
Coaching and Juniors
Juniors: There will be a new, free 6 week coaching course starting after Easter for 5 to 8 year olds led by Joss and OTB and funded by the Davis Cup Legacy Fund. Contact OTB for details of the whole coaching programme.
There will also be further coaching sessions for juniors on a Wednesday evening – contact Joss or OTB for information.
Adult Pay and Play sessions for members and non members will continue: contact OTB for days and times.
Adult tactics/match play coaching: Unfortunately lots of people who expressed an interest in this will be away on holiday on Thursday 7th. However, we do have 5 players available so this looks as if it will go ahead. I am awaiting confirmation of time. If you are interested in joining in please get in touch ASAP.
Saturday Morning Adults: Andy Gardiner runs 2 great sessions (9-10 and 10-11) for adults. It's a sort of Cardio fun tennis session and a bargain at £2. Just turn up.
Membership
Our priority is increasing membership!
Subscriptions (unchanged from last year) are now due. Contact Bob if you need any special arrangements with paying – we try to be flexible, as well as good value for money.
I hope those people who took advantage of the free membership period last season will consider joining us!
At the GBTW in May we will once again be offering a special 8 week membership rate for families. Please spread the word.
Other News
We still need a young (well, relatively!), dynamic person with a commitment to developing the club to take over as Chair. Have a chat with Bob Bridges (remaining Co Chair) if you think you might be able to take this on. Co-chairing has worked well, so a pair of people to share the job would be fine.
Best wishes to some of our members who are struggling with injuries, especially John Abbiss, Liz and David. We are missing you!
Congratulations to one of our younger players, Freya Barry, on being selected to play for Great Britain in the European Deaf Championships. She will be off to Slovenia on 6th June.
Thanks to those members who ran/helped at the Attenborough Memorabilia Day.
Thanks too to those members who have returned the Members' Survey. Please can I have the rest! (Especially from younger members and families.)
Next Committee meeting
Next Committee meeting: Monday 9th May 2016, 7.30 in the clubhouse
Jane